Work Conditioning
The Rehabilitation Institute of Washington Work Conditioning Program has been designed to help people who have disability related to chronic pain. When pain has interfered with work or home activities, has lead to loss of fitness and health, weight gain, depression, or overuse of medications, a rehabilitation approach becomes necessary to successfully reverse these changes.
Rehabilitation at RIW is a comprehensive approach, designed to treat all the factors that influence disability and pain. The methods used in this program may be different from those that have been tried in the past. Our approach involves helping you learn skills that will allow you to better manage and cope with pain in the future.
The Evaluation
The evaluation process is the first step. This usually involves a 1 hour appointment during which the patient will meet with a rehabilitation physician. Usually at the end of this evaluation, the patient and doctor will decide if the Work Conditioning Program is the right treatment.
The Program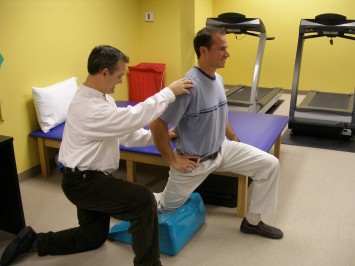 The treatment program is designed for each patient's particular problems and needs. Patients will work with a team of rehabilitation specialists including a Physician, an Occupational Therapist and a Physical Therapist. They may also work with a Pain Psychologist.
All programs include physical exercise and reconditioning in the form of stretching, strengthening and cardiovascular (aerobic) fitness, instruction in proper body mechanics and psychological strategies for managing pain.
How Long Does the Program Last?
The program will take 1.5 hours of hard work each day for a total of four to eight weeks to get you started on the road to recovery. At the end of your four to eight week program, a long-term home exercise program will be designed for you.
The RIW Work Conditioning Program is designed to help motivated people with a strong desire to change. The results can be outstanding with this type of team effort.
Referrals for Work Conditioning
Please contact Vanessa Quintero, our Musculoskeletal Programs Coordinator, at (206) 859-5030 x1608 for questions or to arrange for a Work Conditioning Program Evaluation.  You may also visit our referrals page for more information on how to make a referral.