Adult
What is Neuropsychology?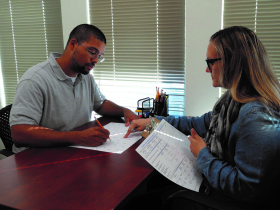 A sub specialty within psychology that applies specialized knowledge of functional neuroanatomy, principles of neuroscience, brain development, neurological disorders and etiologies, neurodiagnostic techniques, normal and abnormal brain functioning to the neuropsychological and behavioral manifestations of neurological disorders.
Cognitive domains such as attention, memory, and executive function are often assessed. In addition, academic skills such as reading comprehension, spelling, and basic mathematics can be evaluated. Finally, elements of mood and psychological adjustment are frequently evaluated.
A neuropsychological evaluation helps to determine an individual's pattern of cognitive strengths and weakness. This information can be used to better understand thinking problems someone may be having in their daily life.
Results from a neuropsychological evaluation can help to identify the nature and degree of any cognitive problems, aid in differential diagnosis, guide medical or rehabilitation treatments, and assist in educational or vocational planning.
When is neuropsychological testing appropriate?
There are concerns or evidence of cognitive difficulty impacting daily functioning, progress through rehabilitation, or educational/vocational success.
here is evidence of prior cognitive difficulty in academic or work settings that might impact future educational or vocational rehabilitation goals or processes.
What procedures are used?
The evaluation involves:
A review of relevant records
An interview with the family
Administration of standardized neuropsychological testing
Scoring and interpretation of results
How long does the evaluation typically take?
A neuropsychological assessment can last 4-5 hours; however, longer evaluations may be warranted depending on the reason for the referral and depending on the needs of the individual, may take place over the course of either one or two days.
Frequently evaluated populations:
Traumatic Brain Injury
Alzheimer's and other dementias
Other neurological conditions such as epilepsy, multiple sclerosis, stroke, Parkinson's disease, etc.
Learning disorders and ADD/ADHD
Mild Cognitive Impairment
Neoplasm/tumor/cognitive "late effects" from chemotherapy treatment
How to Make Referral
To make a referral, please contact our office at (206) 859-5030, or visit our referrals page.